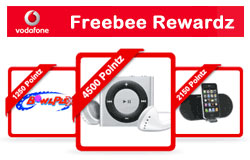 Vodafone UK has introduced Freebee rewards exclusively for their Pay as you Go customers. This reward program offers an opportunity to win exciting prizes and to collect points. Every time, a Vodafone customer top up their Pay as you Go account, the company sends a unique code to them which can be redeemed for instant rewards. Customers who don't want to use the codes for rewards can save the points for future use. With options to grab or grow prizes, the freebee rewards becomes very useful to every customer.
Rewards are available for customers with 100 points to 10000 points. Mega prizes like Apple iPod Nano, overnight hotel break, Samsung Totoro phone voucher and £100 Vodafone retail store voucher can be won for points 9980 to 10000. For those who don't want to accumulate their points for long, can grow 100, 150, 500 points to win vouchers, dance lessons, blockbuster films or training sessions. Likewise, every set of points comes with exciting rewards.
There are four instant rewards as well as a mystery option with a star reward. To benefit from the free rewards customer should have free Vodafone Pay as you go SIM that is topped up with minimum of £5 of credit. Freebee Rewardz code, that the customer receives every time they top-up needs to be entered along with the mobile phone to redeem the rewards.