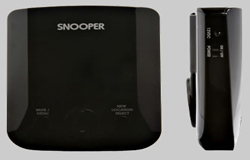 Brand new Snooper Tigre detection system can be received for free by participating in a competition. The free competition is offering the Snooper Tigre radar and laser detector, worth £99 to a lucky participant. The detector boasts an innovative "all band" radar detection system, a feature introduced by Snooper for the first time in their product. This system alerts drivers to the extensive static cameras and mobile speed traps along with laser guns and Gatso cameras.
With this detector system at hand, drivers are offered with necessary warnings. This detector with no doubt offers longer detection distances and wide-ranging detection frequencies. Snooper Tigre features clear voice alerts and text display for easy handling choices. Connect it to the cigarette lighter / power outlet and the device can be used right away. It attaches itself to the windscreen or on dashboard mounts. Now this advanced detector system is offered for free.
Participate in the free competition to benefit from this exciting offer. All you have to do is sign up for the free TotallyMotor newsletter by entering name and email address. On subscribing to the newsletters, the customers will be entered into the draw automatically. Snooper Tigre radar and laser detector can be won by a lucky reader for free of charge.