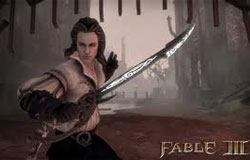 Xbox owners will find the latest offer of Microsoft very attractive and appealing. The free offer from the company targets the gamers who have been hesitant to register with the online service. Microsoft is introducing the 5 Free Games offer exclusively for the UK gamers. This offer is applicable for those who sign up for six month Xbox Live Gold subscription till April 3. With only few days left for the offer to expire, the gamers should act fast. This offer is for players who haven't subscribed for the service before. Xbox owners can make use of this great opportunity and receive the 5 games for free.
The list of five games includes Fable III, Halo: Reach, Kinect Sports, The Gunstringer and Toy Soldier. If the players are downloading each of these games separately, it would cost them £125. Now, £125 worth games can be enjoyed without paying anything. All the players have to do is pay just £26.66 for the subscription. By offering such amazing deal Microsoft hopes to attract the Xbox owners towards its online service. However, this new offer from the company will definitely add more members to the six month Xbox Live Gold subscription.
Xbox owners who have not signed before for this service should act quickly and grab all the five games.