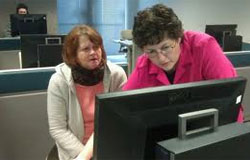 Bracknell Forest Homes (BFH), a housing association is running free courses that will attract many. The free courses will cover a range of topics such as beginning a business, managing money, handling stress and so on. FREE courses can be registered by anyone, this month. Bracknell Forest Homes (BFH) is teaming with NHS, Next Step Careers advice and Lifelong Learning at Bracknell Forest Council. Caroline Titley, BFH chief executive said that the free courses will help nurture and develop new skills as they are operated by specialist organisations.
On Monday, self-employment workshops will be held for those aged 19 and above. Interested people can participate in the workshops that are divided into two sessions. One session begins from 10.30am and end by noon, and the other session will begin from 2 and end at 3.30pm. To book for the self-employment workshops, you can call via 0800 195 4700 or email at nextstep.enquiries@babcock.co.uk.
Stress control workshops will be conducted every Tuesday between 6.30 and 8pm, beginning from next week. This workshop will end on March 13. Make your money course will be on February 23, Thursday from 9.15 to 11.45am and Information on working in a school will be held on the same day from 12.15 to 2.45pm. To attend these courses you can dial 01344 382912 or email joanna.flaxman@bracknell foresthomes.org.uk. The sessions will be held at Bracknell Forest Homes's office at Berkshire Court in Western Road in the Western Industrial Area. Those who attend the workshop can benefit from free parking. Transport and childcare costs will also be arranged.