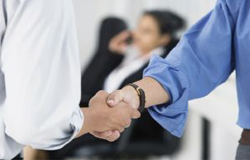 In an attempt to offer additional support to small and medium sized business owners, a series of free business support events have been launched. Intellectual Property Office (IPO) and Companies House have introduced this free support in Liverpool. Lately, a series of support for SMEs has been introduced by IPO. Free business support named as 'Get It Right – First Time' is suited for businesses owners who seek help to protect their Intellectual Property (IP). The events will also help them understand the responsibilities of the First Time Director.
Minister for Intellectual Property, Baroness Wilcox said that these events would prove useful for directors who are inexperienced of protecting the IP. They are useful for those who are being directors for the first time. Directors are offered with free support and guidance through these series of events. Potential customers can sign up for the events and get the free advice and support.
Experts from IPO and Companies House will conduct the free events. A series of seminars on basics of IP will be presented by the IPO team. Apart from directors, managers can also take advantage of the business events. The seminars conducted by the team of Companies House will deal with incorporation steps, methods to use tools and resources wisely and effectively.